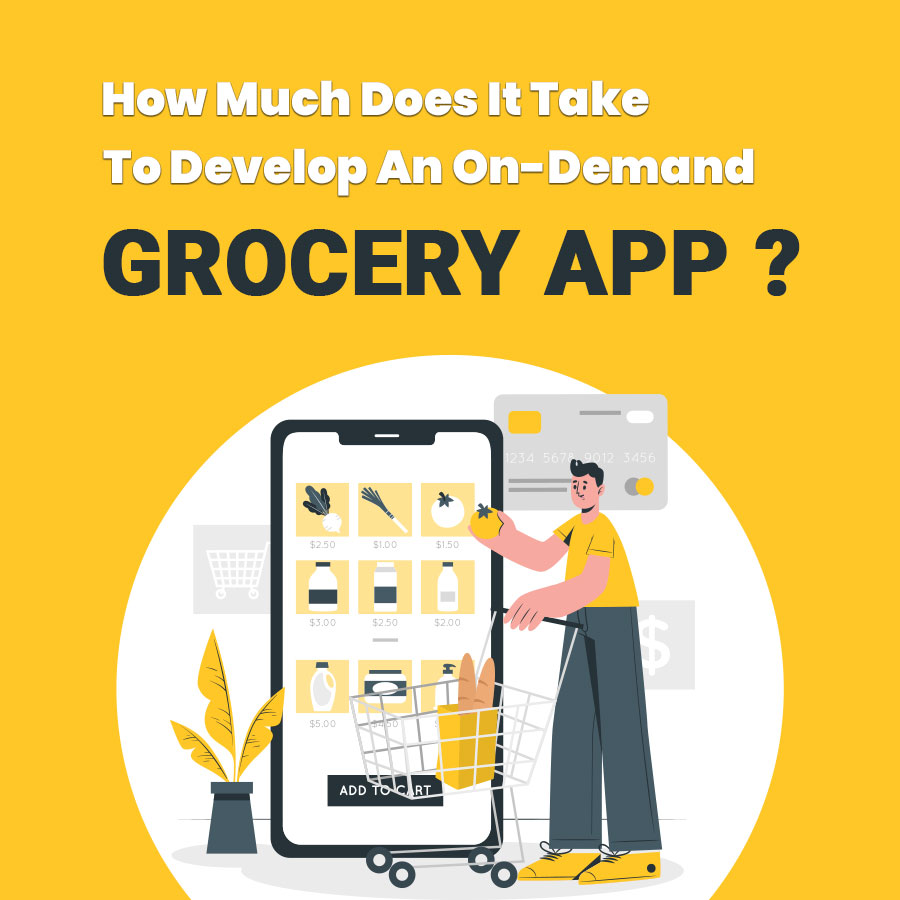 Notice
: Undefined variable: post_id in
/home/infoxen.com/wp-content/themes/infoxen/single.php
on line
231
Mobile App Development
How Much Does It Cost For An On-Demand Grocery App Like Instacart
With the swift evolution of mobile technology and smartphone adoption, grocery delivery apps are also popping up everywhere. Most of the businesses are struggling hard to release their online grocery shopping app and compete in the market to drive efficient results. So, if you are also willing to make a successful grocery delivery mobile app, this blog is for you.
These days, you can see how modern users are getting incumbent on grocery apps worldwide and amusing the hassles-free door-step grocery shopping experience. There are several reasons including time, energy, and money that people are turning online to buy their daily needs. As a result, the on-demand grocery shopping apps are rapidly on the way to overtake the brick and mortar based grocery stores. Thereby, this rising trend is encouraging and giving opportunities to the business minds to get into.
If we talk about major countries like the US and Canada, you can see a continuous and speedy hike in grocery sales in recent years. As per Statista, in the year 2012, the online grocery sales in the US market were US$6 billion, and by the year 2019, it has had US$26 and is expected to reach up to US$29.7 billion by the end of the year 2021.
When it comes to knowing the cost to develop a grocery delivery app like Instacart, you have to consider a few factors just to initiate working on:
The Business Model Of Instacart
Instacart works on a different business model whereby users can order their groceries online and pay for their orders using their app and can sit back. Now the further part is performed by the Instacart drivers. A nearby driver is notified about the order to receive the order from Instacart sellers or warehouses and deliver the same to the customer adhering to the given time-frame.
Instacart offers 1-hours to 2-hours of express delivery to their users. Users can either subscribe for free delivery or can opt for delivery amount every time when they order a grocery from Instacart.
Must-Have Features
The Grocery delivery app like Instacart imbibes several features for different perspectives or modules. So, let's have an eye on module-wise features that you need to include when you plan for your mobile app development:
User Panel Features
User Sign Up & Sign In
Profile Management
Product Search & Filter
Product Save Later Option
Add To Cart & Checkout
Customer Feedback & Review
Delivery Tracking
Order Management
Flexible Payment Options
Delivery Schedule
Wallet Facilitation
Order History
Push Notifications
Customer Support 
Admin Panel Features
Admin Dashboard
Allocation Of Orders
Admin Dashboard
Inventory Management
Customer Management
Payment Management
Driver Management
Campaign Management
Promotions & Discounts Management
Managing Other Various Elements

Delivery Panel Features
Geo-Location Services
Accept & Reject Requests
Push Notifications
In-App Calling/Chat
Delivery Information Integration
Delivery History & Earnings
Ratings & Reviews
Help & Support Option

Team Structure
When it comes to developing a grocery delivery app, you need an app development team to work on your project. Make sure you are hiring industry experts or a modern-equipped mobile app development company to ensure a tested and smoother grocery delivery app like Instacart. The team you hire may include:
App Designers
App Developers
Quality Analysts
Project Manager

Platform & Framework
As you are planning to launch a grocery shopping app, you need to come up with the platform as well in advance. Since the grocery is the need of everyone, this cannot categorize your audience. For this, you can either go with an Android app or iOS app to fulfill your native objective. Choosing a platform somehow belongs to your budget too. Thereby, you can acquire
Hybrid development services to run on every platform with a single code.
Initially, you can drive efficiency with the Hybrid application if you are working with a low budget and can enlarge your capabilities by introducing native apps in later states or once you start getting users that enables you to drive profit.

Revenue Generating Model
Obviously, you tend to develop this grocery shopping app to acquire something in return. If we talk about the Instacart grocery delivery platform, it works on multiple revenue streams. You can also consider these revenue-generating ways to kick-start your monetary efficiency:
Commission Based
You can implement different commissions on different grocery items. It also incumbents on trending or demanding products, as users tend to buy the demanded products at the high cost as well.
Subscription Based
You can release subscription plans that may offer free delivery to your users along with other perks including additional membership discounts, early access to occasional sale, and more. Leveraging this way you can drive regular income.
Service Charge Based
You can also earn from the store owners you integrate with your grocery store. This will help you increase your earning level. You can either fix a deal based on a periodical basis or depending on their fluctuating sales.
How Much Does It Cost To Develop A Grocery Delivery App Like Instacart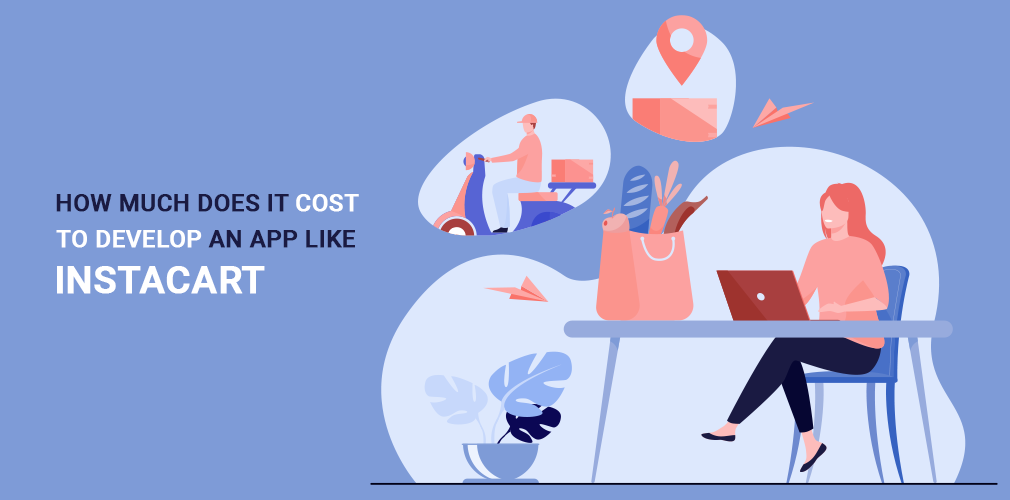 Now, it's time to disclose the estimation for your grocery delivery app like Instacart. For this, you need to keep some factors in mind before hiring a mobile app development company like Infoxen:
What geo-locations are you planning to cover? 
Any specific audience you need to target?
The complexity level of your project, like how many features and functionalities you are willing to embrace in your app, integration part, level of personalization, and more.
Payment methods and other system configurations.
App platform and technology stack you choose.
So, your app development cost may vary depending on your unique project requirement and personalization you imbibe. Rest the exact cost can be figured-out after knowing your exact requirements.
The average estimation for your app like grocery delivery will go around the US $40k to the US $50k. But again, this is just a rough estimate, you need to consult your project with an expert mobile app development company to figure out the exact cost.
It also depends on what platform you choose, whether you are willing to launch your grocery delivery app using the native platform(s) or will love to initiate with the Hybrid platform as the development cost significantly changes according to your needs and digital adoption. If your customization requirements shift, the above price will be adjusted accordingly.
---
Wrapping Up
So, if you want to implement your grocery app idea into reality, do not hesitate to contact our experts who can help you with the most personalized and dedicated solution. To know more or to get started on your project, share your project requirement with our mobile app development company.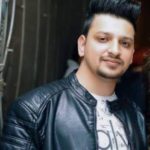 ABOUT AUTHOR

Deprecated: get_author_name is deprecated since version 2.8.0! Use get_the_author_meta('display_name') instead. in /home/infoxen.com/wp-includes/functions.php on line 4779
Vasudev Arora
Vasudev Arora as a Business Head at Infoxen is prolific in defining business growth strategies & stabilizing financial footing, to balance out long-term business goals. When not chairing his position, you will find him penning down his thoughts on disrupting technologies, IT-related & other software development trends from his industry exposure & business mindset.