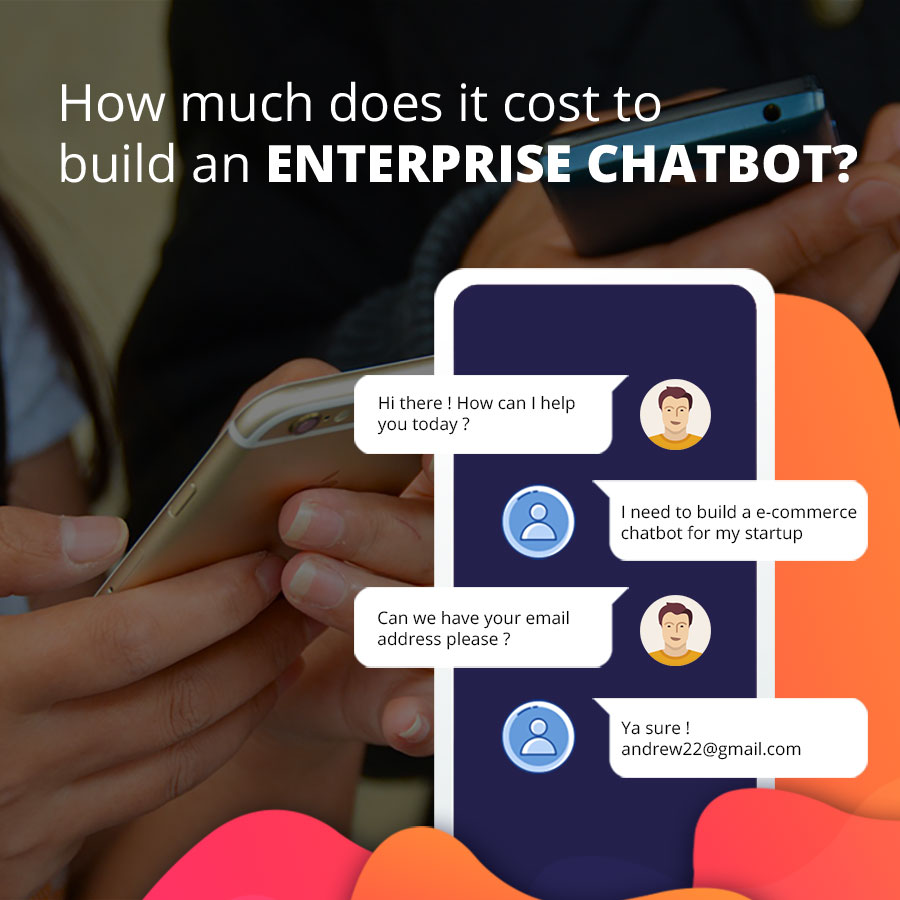 AI & Machine Learning
How Much Does it Cost to Build an Enterprise Chatbot?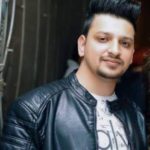 To stimulate intelligent human interactions with the machines, tons of tools & resources have entered the market, can name any? – one that tops the chart is Chatbot aka virtual assistant. Contemplating the need of serving personalized customer experience and preventing customer diversion, enterprises seem rivalry in siphoning custom AI Chatbot development services for websites and apps.
Considering the rivalry of staying ahead, Chatbot is coming in global requisition by every extent of the organization. Using Chatbots, it becomes easy to carry out an effective conversation between the organization and customers which is the ultimate need to drive customers as well as retain them as a long-lasting deal.
Chatbot Market Analysis & Stats
Chatbots awareness has grown well right after the rise of AI, also ever since businesses have started looking out for ways to communicate their brands and their audience in a more effective & steadfast manner. And this is the reason why even startups are demonstrating their interest in Chatbots.
Here you can see how Chatbot has been trolled by worldwide users. Below stated graph describes the growth factor of Chatbots:
Chatbot Market Size to Reach $1.25 Billion by 2025 at a CAGR of 24.3% – revealed by Grand View Research
Customers seek-out for brand information that is fast, real-time, and is more focused on on-demand approach. Chatbots clearly understand these expectations & also redeem the customer's desires by working on all these that are stated.
As per Markets Insider, "Global Chatbot market anticipated to reach $94 Billion by 2024 – Robust opportunities to arise in retail & eCommerce."
As we cannot deny the increasing growth in retail & eCommerce industry where people are getting excited in making seamless online purchases even using Chatbots as it saves their time, efforts, and reinforce their shopping decision along with reliable support and assistance.
In the words of Lauren Foye, "by 2022, banks can automate up to 90% of their customer interaction using Chatbots."
Even various major global banks have already started utilizing Chatbots just to serve & support bonzer things to their customers and to ultimately reflect their revenue streams. For instance, Bank of America, JPMorgan Chase, Capital One, Royal Bank of Scotland – Luvo a few names to give.
According to Business Insider – 73% of healthcare admin tasks could be automated by AI, and the adoption of Chatbots could save the healthcare, banking, and retail sectors $11 billion annually by 2023.
Hence, it is expected that Chatbots will bring revolution in almost all the industries by simplifying the way of customer interaction and offering them potential support. When combined With AI and Machine Learning technologies,AI Chatbots deliver redefined customer experience.
By 2022, 70% of white-collar workers will interact with conversational platforms on a daily basis – Says Gartner
Chatbot is perceived as a powerful tool to ensure effective customer conversation allied to distinct products, services or support. Chatbot helps enterprises to rescue them from customer diversion and opens the door to several newbie opportunities and penetration in their targeted marketplace.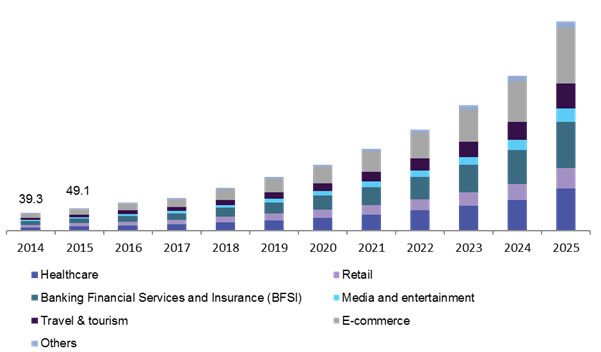 By 2021, 4.5 billion dollars will be invested in Chatbots- researched performed by Opus
Here, in the purview of a custom Chatbot development company, we will reveal the exact cost that it takes to build a responsive, real-time, intelligent and customized bot for any enterprise or end-user application. Before that, we will continue to amaze readers with the Chatbot history, benefits these virtual assistants host, the industry type they exponentially serve, basic type, and how they are implemented.
Global Brands & Chatbots
To improve brand exposure and to augment customer experience, various major bands are taking recourse of virtual bots. Even, to adhere to their footsteps, many more are in rivalry to implement the same. Moreover, brands cannot avoid the enlarging market competition and enhancing user-demand hence, Chatbot helps brands to reform their service levels and improve the way of dealing with customers.
So, let's have a cheat sheet on those major brands who developed their user experience and built a sustainable image in the market:
Starbucks
Starbucks is the prominent name in the Coffee domain. This brand made things easy while serving their customers and managing their orders by integrating Bot in their application. Using bot, this brand assists its customers to place their coffee along with snacks without spending time in long queues. Their customers can place their orders using messaging and voice features.
Apart from this, the bot saves customer preferences based on their past orders and hence, helps the brand to serve unparalleled convenience which in turn increases customer trust, engagement, and brand accessibility.
Uber
Uber is another brand name that takes part in this list. Using Uber Bot, customers can book a ride even without installing an Uber app on their device. Moreover, users can track their ride, share their ride details, and can also track payment and ride history. It allows iPhone users to book a cab using the voice feature by Siri. Hence, you can see how Uber is gaining popularity among its customers by providing a convenient approach to their customers.
Dominos
The famous fast-food specialist chain Dominos is also leveraging Bot to enlarge their business values by delivering worry less, convenient, and quick delivery service to their customers. Dominos users can also make use of voice assistants to ensure efficient and accurate orders to their customers.
Paypal
Paypal has transformed its user experience by enabling voice assistants for iPhone and iPad users' to make payments via Siri. Using this voice assistant, users can make payment as well as request payment not merely from national geo-locations even from 30 countries. This truly enhances the user experience and make their transaction activities
Spotify
Another cool app Spotify is also using its Facebook messenger bot that is making things easy for its users to search, listen, and share music. Based on the customers' previous use and history, it recommends playlists to their users as per their mood and preference. So, this music app is trending among their users just because of its usage flexibility.
There are more brands in a queue leveraging bots in text or voice format just to cultivate their user experience and yield their productivity level.
Business Impact Of Chatbot
Before knowing the cost, let's be vigilant about how virtual Bot impacts businesses and helps to transform their infrastructural movement and improves other factors bolstering to trigger business flow while reducing the cost as well as eliminating the need of human resources.
When it comes to investing in virtual assistants, it offers a multitude of business benefits in return, for instance, you exhibit your business a 24/7 business, lower your business cost, and streamline your operations flow.
Let's have a look at how Chatbot impacts businesses
24/7 Availability With Cost Effectiveness
Today's customers expect all-time availability to raise queries and avail support for the same. In the lack of offering potential support, businesses lose esteemed customer base and potential sales outcomes. Chatbot empowers businesses with 24/7 availability as it provides support to your customers even in off-hours when your human support is not available.
Reduce Operational Cost
Obviously, reserving most of your attention towards listening to your Customers requires a huge cost. When your customers seek support or want to lodge their queries at the same time, your customer interaction cost goes high. Bot helps to rescue your executives' time and interaction cost including technical support infrastructure.
Cut-Down Employee Overheads
Chatbot can interact with numerous users at a single time zone, hence, reduces customer wait time and improves overall customer support experience. As per Chatbot magazine, An AI-powered Chatbot helps to reduce customer service costs by 30%. It handles most of the commonly raised and repetitive queries that saves your employees' overheads.
Better Allocation Of Resources
Chatbots also strengthen your working capabilities by ensuring better resource allocation. It works all the time and helps not to lose a single potential user or buyer. Using Chatbot, you augment an opportunity for more targeted sales by finding the customers itself as people love to use Bot rather than drafting a mail.
Higher Revenue
Various businesses have started taking recourse of Chatbots just to increase their lead-conversion rate, enlarge their sales volumes, and higher their revenue level. Chatbot enables businesses to engage their customers by offering various discounts, new-launches and more which in turn to drive effective revenue streams.
Use Cases For Chatbots
AI & Machine Learning techniques equipped Chatbots help businesses to support distinct business purposes and bolster various business capabilities to ensure a gradual operational flow in their business. Demonstrating the varied needs of the diverse industry and business contexts, you may comprise a different set of use cases simplifying the complicated areas in your business.
The most accustomed operational swing may comprise customer management & support, leads & sales generation, driving marketing campaigns, appointment booking, billing, etc.
As per different operational navigation and business objectives, you may imbibe either a few or conclude the whole use cases. So, let's have a brief demonstration of use cases of Chatbots on how enterprises are leveraging worldwide.
How To Choose Right Chatbot For Your Business
As per your distinct business navigation, your Chatbot requirement may vary hence, your bot assistant should be designed exhibiting your substantial operational movement comprising dealing with your customer base, outreaching more audience, and improving the customer experience while reducing redundancies, human errors, repetitive tasks and more.
Businesses started integrating Bots just to offer reliable and flexible support to their customers but most of the enterprises are not getting the anticipated results as today's modern users or customers expect personalized service, product, or support. If one fails in catering so, they start losing even their esteemed customer base.
Moreover, you cannot avoid the rising demand for customer automation as present customers believe in robust, customized, and swift solutions. If you are not serving them accordingly, your customers may start diverting to your competitors. Hence, enterprises need a strategic bot that can't merely ameliorate or improve your support system even can serve as customized as your customers want to acquire.
So, there are a few primary considerations that should be kept in mind before finalizing a Chatbot:
Invest In AI
As without the integration of AI algorithms in your Chatbot, you cannot serve a personalized experience to your customers which is the ultimate requisition today. AI-equipped Bot helps businesses to serve elevated and personalized customer experience. An intelligent bot promptly assists customers by giving answers or solving the queries leveraging the data stored in the internal database, chat history (if exists), and other ERP or CRM databases.
Automate Actions
Since Chatbots are bringing a revolutionary change in terms of online shopping via Chatbot, booking appointments or reserving a slot for any event and more, a basic Bot will not work out. Hence, there is a sincere need to automate actions and roll out the process in the organization. A bot with a caliber of performing automated operations can truly help organizations to satisfy the monetary deals and acquire new business heights.
Enable Personalization
Personalization is the key to success for enterprise Chatbots. The more you offer a personalized experience to your customers the more you get success in augmenting your customer ratio. So, review your bot capabilities and if your bot is just a FAQ platform, hire a sound experience equipped Chatbot development services from one of the expert Chatbot development providers i.e. Infoxen to build intelligent Bots with automation capabilities.
Include Multiple Languages
Well, Chatbot allows companies to serve by adhering to 24/7 support systems but if you are dealing in different geo-locations where language matters, your virtual assistant must imbibe the functionality that allows users to translate instantly. Obviously, speaking in every user/customer language is quite challenging hence, multilingual functionality may help you to connect and serve across your international customers.
Ensure Human & Bot Collaboration
Bots are developed to streamline the operational movements by working collaboratively as a team with human assistants. Often, AI bots handle the common and repetitive tasks and when it comes to human support, your bot must be enriched with functionality to transfer the case to the human support executive along with current and previous chat history.
Origin Of Chatbot
The term Chatbot was introduced in 1950 for the very first time and in 1966, the first Chatbot was developed named – ELIZA. Later, more Chatbots were developed such as PARRY (1972), RACTER (1984), JABBERWACKY (1988), DR. SBAITSO (1992), ALICE (1995), SMARTER CHILD (2001), IBM's WATSON (2006), SIRI (2010), GOOGLE NOW (2012), ALEXA/CORTANA (2015), MESSENGER BOTS (2016).
Below image will demonstrate a brief picture on Chatbot history: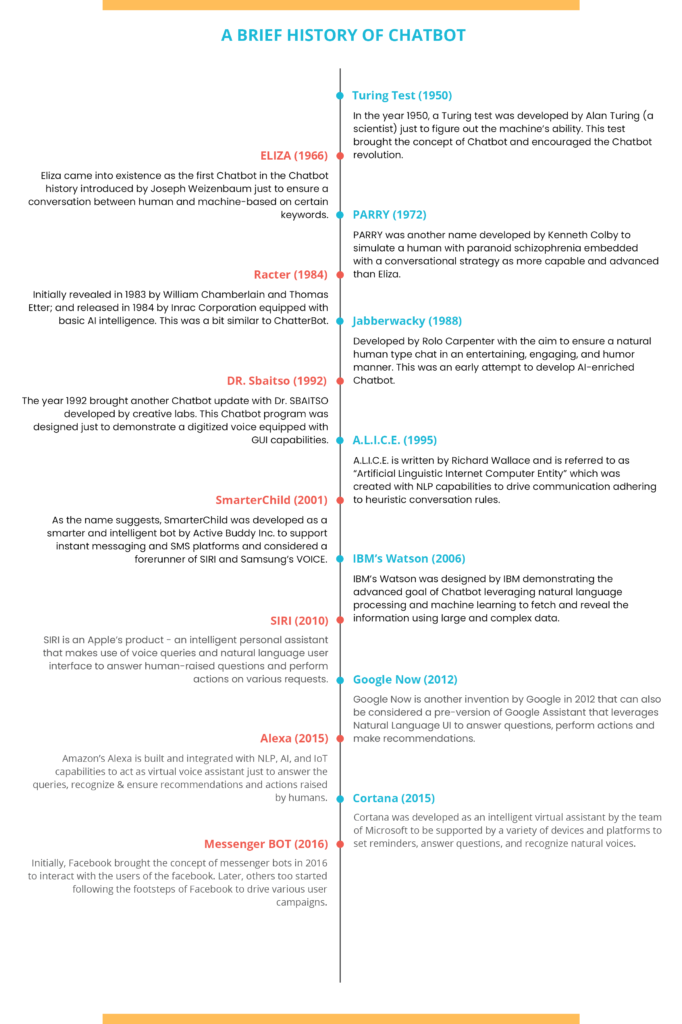 Evolution Of Chatbot
Initially, Chatbot started evolving from the year 2008 and started capturing the market thereafter. Obviously, with time, it has become a vital need to serve personalized product or service along with end-to-end support to the customers. To ensure so, enterprises started taking recourse of Chatbots and to implement so, they believe to outsource the same from an acclaimed Chatbot development service provider. Leveraging bots, modern enterprises reinforce their customer support strategy and strengthen their bonding with their esteemed customers.
Chatbot is discovered to reduce human resources and eliminate the communication barriers between enterprises and customers. But the market trend is just not limited to basic Chatbots, it is being adopted imbibed with AI & Machine Learning technologies and personalized approach supporting businesses to attract and engage more potential customer base while soundly impacting to the revenue levels.
So, you can see how Chatbot came into existence, how business firms embraced bots as per their distinct exigency and now, it has become the crucial need for every small to the large scale of enterprises.
So, What Are Chatbots?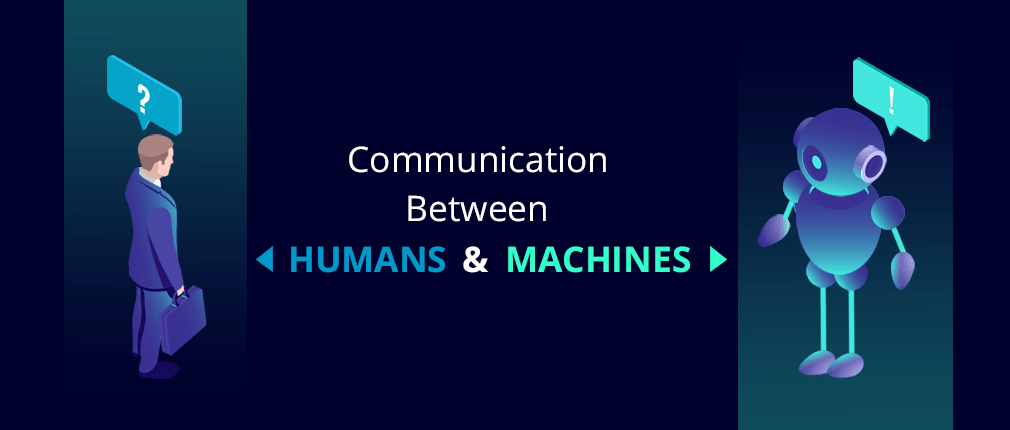 These are an advanced form of software that is devised to exchange a "question-response" kind of communication between humans & machines. They leverage great use of NLP (Natural language processing) & often can be molded in a format of messaging apps, mobile apps, websites, telephone & maybe more in the future.
Chatbots are designed and implemented either in your own web & app or within popular messengers. It's all incumbent on your strategic business requirement you adopt and get it implemented accordingly. Even AI & Chatbots are altering mobile app development and impacting the entire digital development market from Python development to SaaS development to WordPress development and more as modern firms want to integrate Chatbot first to ensure user-engaging experience from the very first day.
How Do They Work?
In short, these Chatbots return the response to the user, based on their entered or conveyed input.
They perform a task called "user request analysis", wherein they identify the user's entered input or information and amplify the intent or reasoning behind it.
Later, on understanding the intent, they extract & return the output with a relevant response.
Why Chatbots Are Important
In today's competitive age, serving remarkable experience to customers integrated into different geo-locations with different tastes and preferences is such a daunting task in the absence of Chatbot. Also, modern users/customers believe in flexibility and prompt support, if one fails in doing so, they face customer diversion which is ultimately a downgrading deal to any enterprise.
As we have mentioned use-cases above which demonstrates how the present users expect instant support even in off-hours. Hence, gone are the days when users used to have the patience to wait for 24 hours or sometimes for a week. Now, with time, things have changed and enterprises are focusing to serve better and support better to their customers by taking recourse of AI-based virtual bots integrated into their app, website or even on social platforms.
And in the age of the internet, where internet usage cost is minimal and staying tech-savvy is not a massive deal, people do not want to remain in a queue while making calls to the concerned customer support channel. Besides, drafting a mail is considered an ordinary way to avail of the support or solution to any query.
Even AI bots exhibit its importance more than mobile apps and hence, AI Chatbots are altering mobile app development too where developers have to keep things in mind to form things from the initial face to final releases
To elaborate it in a more worthily manner, let's perform one by one an affluent comparison between the Chatbot and traditional mediums that are losing their market space steadily:
Chatbot Vs. Email
Current users started using Chatbots to get quick answers to common questions or to avail instant support that cannot be possible with simple mailing ways. Usually, email support consumes 24 to 48 hours which is such a time-consuming deal. Even AI bots can serve answers to complex questions or queries too which is impacting the rise of Chatbot.
Chatbot Vs. Phone
When it comes to phones, today's users believe in DIY methods whereby they can leave their message while carrying out other deals too or they love to talk when messing no more remains a solution. Hence, again Bot celebrates its victory. However, in case of complicated issues or in two-way business communication, phone calls are preferred as a better communication option.
Chatbot Vs. Apps
AI Chatbots are replacing the app market too. As per marketers, to increase customer outreach, it takes less effort than apps because apps are needed to optimize first to attract users and engage them as well. Integrating Chatbots with social platforms like Facebook, Whatsapp, Skype, Twitter, Telegram, Slack and more helps to engage customers more swiftly and efficiently.
So, you can see how AI bots are being adopted and replacing traditional communication methods. The Chatbot is yet to replace the apps, phone calls, and emails, but we cannot avoid its rapid transformation and adoption by small to large scale organizations just to improve their customer experience, enhance their brand exposure, and eventually to remain competitive in the highly engaged marketplace where even a basic penetration is a complex job.
Obviously, you would love to rule the world you deal with and it cannot be a winning game in the lack of intelligent bots. Hence, most of the enterprises are shaking hands with AI-embedded virtual bots and integrating them in their business in various ways.
However, few enterprises are still relying on rule-based bots. So, let's perceive rule-based bots and AI Chatbots how one should choose out of them.
What Are AI And Rule-Based Chatbots?
Usually, people talk about Chatbots, bots, virtual assistants and more but there is a massive difference between AI bots and just plain bots. So, let's figure it out. When it comes to comparing these two, a simple comparison rolls out between artificial intelligence and automation.
What Is Rule-Based Chatbot?
Rule-based Chatbot is deployed to answer a certain set of questions but yes exact and accurate. These bots are helpful and can be leveraged by Sales & Marketing teams so as exact answers can be rendered to their audience. But these assistants are sticked to script and will be able to answer merely for those raised queries that match their programmed database.
However, if a user asks something which is not programmed by the developer in the Chatbot, Bot won't be able to respond against the raised question or query. On the other hand, AI Chatbots are much capable of operating in a customized manner.
So, let's unfold the brief about AI bots.
So, What Are Artificial Intelligence Bots?
AI bots are intelligent bots designed to deem the user query and respond with intelligence. These bots leverage AI, machine learning, and NLP techniques that makes them smarter and capable of dealing with users like humans. When integrated with an internal database, CRM or ERP system, AI bots search and squeeze the user relevant data along with the previous chat history of the user (if exists) and serve them accordingly.
Moreover, AI-based virtual assistants are not limited to cater to the relevant data raised by users, they also ensure their contribution as a learner as they learn from the user and utilize the same for future reference. If something comes out of the control of AI Chatbot, transferred to the human representative.
Thus, AI Chatbot can help your business to save their human resources as most of the common and repetitive tasks are handled by the AI-equipped bots and merely complicated ones are transferred to the support executive. As a result, the firm can focus more on serving better to its customers rather than indulging in providing support even in minor issues that can be easily and swiftly handled by the bots.
Such experience also impacts your users or customers, as they experience improved support without waiting for a queue for a number of minutes or sometimes a set of hours.
Which One To Develop – AI Chatbot Or Rule-Based Chatbot?
Well, it's all about use cases you imbibe for your distinct operational firm. If your business niche is something where you need to handle a strongly controlled audience, and they can be managed with guided information, rule-based bots work well.
But you cannot handle complex queries with a programmed Bot with certain guided solutions. Here, AI bots play a vital role. If AI bots also exhibit losses at any point, it transfers the whole thing to the executive assistant including current conversation and past chat.
Let's elaborate a few common uses cases:
Sentiment Analysis
AI bots demonstrate its caliber by scrolling large data sets to identify the type of customer query whether it is a customer complaint, reviews or others across all touchpoints. As per their understanding, they respond to customers and render a relevant and satisfactory solution.
Identify Behavioural Patterns
AI virtual assistants help brands to identify the variety of behavioral patterns which cannot be done by humans. Based on, it simplifies, such AI bot assistants assist brands to manage their concurrent processes.
Learning Through User Preferences
When it comes to offering a personalized solution or support to the customers/users, AI bots help as they can fetch the data from the integrated databases, and chat history and serves to the customer which is more efficacious and relevant to a particular customer. Even they also learn from every customer interaction and store the same to again serve better in the future.
So, the whole picture is clear, Rule-based Chatbot can reinforce your static or guided process but if you want to bolster your dynamic or human-type of communication using bots, then simple or Rule-based bots may not work out.
Why Chatbots Rather Than Traditional Brand Communication?
Do you know what's tough for businesses? To be on toes 24*7 to highlight their business, they find alternatives to cut down the cost spent on personnel or traditional resources to maintain the flow of communication with the audience – that too in real-time & at lighting speed.
Here Bots come for the rescue, they are not only operational day-night but even are cost-efficient & are smartly designed to modify the outputs as per users' needs. Let's explore how other businesses get benefited from this product offers:

1. A great tool to enhance revenue model – They have become a direct staircase to turning leads into sales, as they keep in constant touch with users to inform them about the latest discounts, offers & deals. Even when aligned with social media platforms, they can act as a great catalyst to boost brand awareness.
2. Increased Customer Engagement – Engaging with your audience is necessary, they say businesses that interacted with their audience via social handles were able to reap good turnouts from users, by 20 to 40%. While social media can enhance the engagement game, don't you think your automated bots can too?
Earlier bots were monotonous, on entering the input, they used to return with an encyclopedia of information – which was quite boring for the users. Today's bots are smart & funny, smart as they revert with only a slice of information like in an interactive manner and funny as their responses are often supported with puns & satires – which the audience could relate to. Don't you feel these elements are real engagement makers?
3. They capture customer insight & behavior
You may feel that bots are only there to convey a set of information or offerings, that is not the only truth. Deep inside, they are a great source to gather the customers'/visitors' insights, they help in tracking the traffic rate, bounce rates & even the probable reasons why customers are quitting the session without making the purchases or at least some query, how? By conducting surveys.
4. Easy way to enter the global markets
If your focus is to repurpose your brand as international or global, these bots are the real deal. They come with multilingual support and stands active 365 days, 24*7, which is a great thing when dealing with worldly prospects.
There are 6,500 languages spoken around the world, don't you think bots can help you fill in those gaps and penetrate easily into desired global markets?
Wait, before you take out your chatbot cost calculator to identify estimates – don't worry we will reveal it, stick around & find what industries are going to be great beneficiaries of such, their types, and how they are implemented.
Industries Leveraging Bot Assistants
Industries/sectors that will be great beneficiaries of automation-rise Chatbots or virtual assistants

1. Travel & Tourism
Since Chatbots are mostly about sharing customer service requests & responding to them with the relevant one, this thing in the travel industry is sorting the process of ticket booking, itinerary queries and more.
2. Media & publishing houses
Users often demand content that is persuasive & most of all personalized, it's tough to sit down & write personal copy for each, especially when we know how fast & consuming this media & publishing industry is.
Here, Bots are fundamental as they are designed with the ability to tweak the content in the favor or interest of each user. They can help enterprises achieve personalized content.
3. Customer support services
A quarter of customer operations are likely to invest in Bots by the year 2020, says a report by Gartner. And it is likely to cut down costs by 30%, increase efficiency, eliminate more waiting time and result in more prompt services.
4. Advertising & marketing
Many giants have started vouching for this software as they can sell their business directly at the customer forefront. The bots now can easily integrate with social media platforms like Facebook, Whatsapp, Telegram and more to help businesses enhance their audience-engagement game & brand identity.
Implementation Journey Of A Chatbot
Backend Development
Chatbot requires backend management for the flow of messages, coming all through different channels and then parsing them with different NLP services.
The backend supports the business logic, brings in place right integrations with the existing systems and sheerly works on making the bot more intelligent & communicative – so that it could get ready to bring effective communication with the user.
The best part, these bots support the .NET and Node.js server-side software development kit (SDK), therefore, you get the freedom to choose the programming language of your choice.
Integrate with channels
Once the backend part is finished, the next step is to prepare modules and integrate them well with the different channels that enterprises would like to target.
Every channel's integration is quite unique, followed by specific UI requirements.
Channels like Facebook Messenger allow conversational rich UI with the use of JavaScript, HTML & CSS.
Make sure your bot is conversational & adheres to each platform's UI specifications.
Integration with natural language processing (NLP)
NLP helps in making the conversation happen with the users in their understandable language. Don't worry, you don't have to write an NLP algorithm for each language kind.
It's immense to integrate your bot with the publically available NLPs so that it could easily extort the user's query or intent & convert it into a machine-understandable language.
Empowering the intelligent replies
Next is to work on replies & responses that are simplified, intelligent, and host to meaningful conversations.
Each conversation should be customized to specialized algorithms and must host less navigation – so that users find it easy to start the conversation.
Users expect the algorithms these days to be centered more around "Deep learning".
Before you go into deep thinking about Chatbot business models or how you can monetize your Bots – learn about the types of bots.
3 Major Types Of Chatbots That Your Business May Need
1. Keywords Recognizing Chatbots
These Chatbots are guided by the extreme use of customizable keywords & AI, they sense, act & respond based on the keywords inserted by the user in each input.
2. Contextual Chatbots
They are the most advanced type as they use machine learning and AI to remember the conversations with a particular user. Based on that, they serve them with answers, types, suggestions that are best suited for them.
3. Menu-Button Based Chatbots
These kinds of bots provide an app-like experience and are based on buttons. They send multiple & clickable buttons or elements inside a chat where users have to select a preferred one, out of many.
They are quite apt in situations where more conversations are not required and tasks are often short or crisp like in case of ticket bookings.
You can opt from these three based on your business model & its offerings.
The Final Reveal – How Much Does It Cost To Build An Enterprise Chatbot?
Custom Chatbot Development
Custom Chatbot development is believed to streamline the interactions of services with the people and eventually improve customer experiences. This development will usher great new opportunities in front of businesses by helping them improve their operational costs, customer-relationship & build a profitable Chatbot business model.
Smart-equipped and custom Chatbots are built leveraging emerging technologies such as AI (Artificial Intelligence), Machine Learning, NLP (Natural Language Processing) and more. Before reaching the conclusion, let's understand with how these technologies assist to release a smart, intelligent, and business-impacting Chatbots:
Artificial Intelligence (AI)
AI is a software program that enables Chatbots to learn and fetch appropriate responses from the database and customer interactions. Using this information, AI helps support executives to cater and ensure the improved customer experience.
According to research performed by Salesforce, "64% of agents with AI Chatbots are able to spend most of their time solving complex problems, versus 50% of agents without AI Chatbots."
Another research of Salesforce says – "80% of service decision-makers believe AI is most effective when deployed with rather than in place of humans."
Machine Learning
Machine Learning algorithms are used to turn the stored information into usable knowledge. This technique helps to automatically find and fetch the vital underlying patterns from the complex and huge data to predict future possibilities and support the decision making process.
NLP (Natural Language Processing)
NLP is a branch of AI that is used to describe the interaction between computers and human language. It helps to read, perceive, and make sense of the human input in a most valuable manner so as a right thing can be processed and offered to the users or customers
Deep Learning
Deep Learning is a Machine Learning algorithm that enables computers to perform a process that is natural to humans and also called Deep Neural Learning. When used in Chatbots, it helps in object recognition from a large set of databases.
Predictive Analysis
Such an amazing technique that helps businesses by analyzing current and past events to make sound predictions. It sometimes also bolsters modern firms to analyze unknown events and predict potential facts to work on and to innovate.
Sentiment Analysis
Sentimental analysis is performed to identify, extract, and quantify the data leveraging natural language processing, text analysis, biometrics, and computational linguistics.
This analysis helps to gain customer sentiments in the form of feedback and more.
Now you have a comprehensive understanding of how Chatbots are implemented and are advantageous to any enterprise setting, it's time, finally to calculate the total time investment and amount that it takes to build such a prodigy product i.e. Chatbot.
Time Involved In Custom Chatbot Development
It's really crucial to know how much time is taken by a Chatbot development service provider from creating a business logic to crafting a design to intelligent development to final deployment.
At Infoxen, the usual time investment is stated below based on your custom exigency:
Integration With App
The hours taken in this case, incumbent on the bot complexity. Usually, it takes 40-60 hours for command-based or rule-based development and 120 to 170 hours time range goes for NLP based interface development.
Business Logic
If it is about to carry out the existing business logic, the time range reaches up to 120 to 160 hours. If you are willing to develop a business logic from scratch, your Chatbot development will consume 160 to 200 hours.
So, you are vigilant about approximate hours involved in end-to-end development. Now, let's stretch this conversation with the cost required to develop your customized Chatbot product.
The Final Cost To Develop A Chatbot
It ranges from $30,000 to $35,000 to build one well-structured AI Chatbot. The price range is dependent & varies according to the time it took to build, technologies or languages utilized & the most obvious – developer's salary & working hours.
This is the basic range charged to design, develop, and implement the customized intelligent Chatbot. At Infoxen – a cutting edge Chatbot development company, you can always avail of the best quote for your customized Chatbot.
Bottom Line!
With the above, we are through with the understanding of how Chatbots or virtual assistants/managers are essential to any business, their types, what markets are their great beneficiary and what budget range it requires to build a robust & interactive virtual assistant for any enterprise or application use.
The next step that stays pending is to consult a custom Chatbot development company and start planning for these bots earlier than key competitors.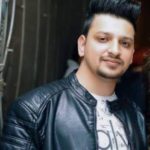 ABOUT AUTHOR
Vasudev Arora
Vasudev Arora as a Business Head at Infoxen is prolific in defining business growth strategies & stabilizing financial footing, to balance out long-term business goals. When not chairing his position, you will find him penning down his thoughts on disrupting technologies, IT-related & other software development trends from his industry exposure & business mindset.